MARCO NAPOLI M
Marco Napoli the gorgeous American and Italian gay porn stud has the perfect cock. She is now available for anyone who wants to experience her perfectly formed penis. Discover the realistic Marco Napoli silcione dildo made by Hankey's Toys. This dick is topped with an incredible head that is neither too small nor too big, always delivering the perfect "pop" upon entry.
Marco Napoli's cock can be considered the ideal shape for many people, it is neither too thin nor too thick, neither too long nor too short.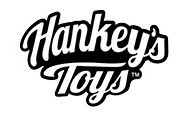 Data sheet
Model

MARCO NAPOLI

Color

Tan

Materials

Silicone 75% Firm 25% Soft

Total height

27,94cm (11")

Insertable height

20,32cm (8")

Base Circumference

20,57cm (8,10")

Circumference in the middle

20,32cm (8")

head circumference

19,05cm (7,5")

Strapon Ring / Suction cup hole (diameter)

7,62cm (3")

Country of Origin

United States
---
A NOTE ABOUT INTERNATIONAL ORDERS: Customers are responsible for paying all duties and taxes for their respective countries
RETURN POLICY: Due to the nature of our products, there are no returns on orders on Hankey's Toys brand items unless defective.
Please pay attention to the dimensions carefully and don't let your eyes get greedier than your hole ! Contact me if you have any questions prior to placing your order.
---
POPPERS & LEATHER CLEANERS WARNING: Highly flammable liquid and vapour. Harmful by inhalation, harmful if swallowed. Do not swallow, smoke or vape. Do not release into the environment: harmful to aquatic organisms. Never combine with products intended to promote erection or in case of heart disease; if in doubt, consult a doctor or pharmacist. Never use with Viagra or other similar products. Sale to minors prohibited. Keep out of reach of children.
---
PRESENTATION SUGGESTION: Remove-O-Balls featured on select Hankey's Toys sex toy models are sold separately.